When I think of Treasured Locks, I feel a sense of nostalgia.
I remember being in middle school and feeling absolutely ashamed of my hair and my appearance. To my dismay, my hair was not straight and it was very short and damaged due to me relaxing my hair every three weeks. I longed
so badly to have long straight hair so that my classmates would stop ridiculing me for not fitting a Eurocentric standard of beauty.
While I was busy fighting nature, my older sister was marching to the beat of a different drum. My sister had enough of relaxers and decided to go natural. Today, many women are
going natural
and
the sales of relaxers are declining
but that was not the case in the early 2000s. Going natural at that time was a gutsy move for an African-American woman to do (not to mention for a teenage girl).
Treasured Locks was my sister's guide for natural hair care. She consulted
Treasured Locks' Beauty 101
section and soon became a naturalista! Soon I became intrigued with Treasured Locks and I would read up on how to improve the health of my relaxed hair. I learned so much about how to care for my hair and when I eventual went natural (I have been natural since 2012) I used their hair vitamins to help me transition from relaxed hair to healthy natural hair.
As one can see, Treasured Locks means a lot to me. Not only did Treasured Locks teach me how to take care of my hair, it also let an insecure little girl know that her locks are meant to be treasured. To say that it was a privilege and an honor to interview the founder of Treasured locks, Tywana Smith, is truly an understatement. Please enjoy this interview and thank you very much to the team at Treasured Locks for filling a void in the beauty industry.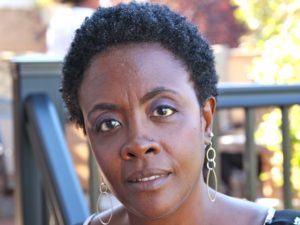 KAY KAY: How would you describe your hair care routine?
KAY KAY: How would you describe Treasured Locks?
Smith:
Treasured Locks is a family owned hair supply store. We have customers from various different demographics, but our products are especially beneficial to people with African American, biracial and ethnic hair. In addition to providing excellent products, we are experts in hair care and consult with our customers on a regular basis.
KAY KAY: What was your background before you opened Treasured Locks?
S
mith:
My husband worked in the computer industry for twenty-five years. I was a stay-at-home mother with two young girls. Before the kids, I had worked in computer customer support, so I love working with people. I became a self-taught hair expert out of necessity.
KAY KAY: What made you want to launch Treasured Locks?
Smith:
I found it impossible to find good products for my girls' hair. The beauty supply stores did not carry quality products and the people working there knew nothing about our needs since they did not have ethnic hair. In 2002, my husband and started buying hair care products on the internet (mostly from New York) and saw an opportunity for a small part-time business.
KAY KAY: What was the hardest part about launching Treasured Locks?
Smith:
It was hard to find quality products. When we started there were not many cheap products that meted our needs. After a few years of being in business, we decided to launch our own brands.
KAY KAY: Where do you see yourself and Treasured Locks in the next five years?
Smith:
We hope to continue to grow and reach more customers.
KAY KAY: What do you love the most about Treasured Locks?
Smith:
I love being my own boss! Treasured Locks afforded me the opportunity to stay home with my girls who I homeschooled through the eighth grade. I love helping mothers and others who are struggling with their hair. I am a people person so I absolutely love to interact with all of the customers!
KAY KAY: How did you get started launching Treasured Locks?
Smith:
Before shea butter became popular we started with Shea Moisture products. My husband built the website by himself, we invested $1,500 dollars in inventor, and the rest is history.
KAY KAY: What advice would you give to future entrepreneurs?
Smith:
Find something you are passionate about and make yourself an expert at whatever that is. You will not succeed by doing the same thing everyone else is already doing. You have to fill a need that is not being filled.
KAY KAY: How did you come up with the name Treasured Locks?
Smith:
My husband came up with several names and that is the one we decided to go with. Locks is another word for hair and black women should be proud of their hair and treasure it. Black women have been taught to be ashamed of their hair and we wanted to flip that. We wanted to have each person be free to unlock the treasure within themselves with Treasured Locks products!
Photo of Smith: Brian Smith
Photo of the merchandise: Brian Smith