Wednesday, August 31, 2016
I have always loved and respected Blo Blow Dry Bar so when I found out that a location inMetro Detroit was opening… I jumped for joy! On August 4, 2016 I had the honor of attending the opening Blo Blow Dry Bar's Birmingham location. The event was spectacular. Guests enjoyed a complimentary blow out, goodie bags, champagne, desserts, and delicious catering from Triple Nickel Restaurant. A portion of the proceeds from this event also benefited the Pink Fund which provides financial assistance for breast cancer patients.
Interview with the Blo Birmingham Owners
Amanda Fraifogl, Kelechi Uchendu, and Nicole Ashley
We loved the idea of opening a business and we wanted a place that we could go and feel pampered. Hence the idea was born and Blo turned out to be the right fit and the right feel for us.
Have you always been interested in the hair/beauty industry?
Yes! Like little girls we still pour thru the magazines together; watching the trends and googling how to's on You tube and Instagram.
What separates Blo from other blow dry bars?
We were the first! Our stylists (aka bloers) must complete an intensive training course in order to work for blo. They are educated extensively on not only how to master the 7 signature styles but also on how to care for our client's hair (blow dryers can be a weapon in the wrong hands) and the best products to use to ensure a beautiful result.
The Pink Fund is an amazing organization. What prompted you to choose them over another organization that deals with breast cancer?
Nicole: Having lost both my parents in the last year to cancer I witnessed first-hand the choice that is made during treatment between paying rent and a medicine that might offer some small relief to a patient's discomfort. The financial stress of treatment on top of the physical and emotional is an aspect of cancer that is rarely realized and what the pink fund is doing to lessen that burden is incredibly important. We wanted to be a part of these efforts.
How do you balance your personal life and running Blo?
·

We're not quite there yet. But that's why we are partners, together we are confident we will get there. And our families have been incredibly supportive.
What do you love the most about working at Blo?
Everything! The energy! Watching women leave feeling like they can run the world! We love to see women feeling good about themselves!
A lot of African -American woman believe that a blow dry salon would not be able to work with their hair texture (unless it is a looser curl pattern or is relaxed). Do you have a stylist or stylists that can work clients who wear sew-in hair extensions and have African -American textured hair?
We do! We have a style boss that is very familiar with textured African - American hair.
What impact would you have loved to make in Detroit in five years?
Our goal is to empower women; in whatever capacity we may have the honor to do so.
Does this whole experience feel like a dream?
It actually does! It was a year in the making and a lifetime of knowing there was more we wanted to do; more we could do. We feel so lucky.
What has been the most challenging part about opening Blo?
"You don't know what you don't know!" Nothing could be more true. We've made some mistakes, but that just makes us smarter for the next time around! We're rolling with the punches!
Kelechi Uchendu and Amber Cann
Amber Cann works with every type of hair texture! In addition to that, she also does sew ins outside of the salon so if you have a weave know that you will be in good hands. Amber will even be able to blowout your wigs if you bring them to Blo! Amber told me that she herself has natural hair and the products work great on natural hair. I cannot wait to book my blowout with Amber!
CLICKHERE to check out more photos from the event
Tuesday, August 30, 2016
I support Colin Kaepernick! In addition to supporting this brave brother, I also support veterans in this nation and around the world. With that being said I must say that this man NEVER disrespected the military or our veterans (and he addresses the claim that he disrespected veterans in one of the videos below). He is refusing to stand up during the national anthem because he wants to protest against police brutality and other forms of structural racism in this nation NOT to disrespect the military or veterans. Yes, we all know that the man is getting some coins. However, just because he has money does not mean he cannot be an activist. For example, I am fortunate enough to have food on the table and come from an upper-middle class background. If I speak out about the
issue of hunger in Detroit
and then donate money to
GleanersCommunity Food Bank
NOBODY would tell me that I have food so I should not speak out on the issue of hunger… that would be STUPID!!!! I think that it is commendable to use your money and platform to help others. I encourage you all to watch the videos below because they really sum up how I feel!!!!
Now Tomi Lahren... SHUT UP and HAVE SEVERAL SEATS
.
Why I am creating a series titled, "Black in Vermont"
I love to help people! I noticed that I was getting many Instagram messages from black people who would be interning in Vermont etc. and did not know what to expect.No one is currently blogging about being black in Vermont. Since I grew up in Metro-Detroit it is hard for me to realize that most of the nation is NOTracially diverse. So, even though I am writing about being black in Vermont, my tips and facts can be applied to anywhere in the nation.
What will I be blogging about?
I will not only be blogging about my experiences. I will be blogging about current events, answering questions, and giving advice on where to go to do your hair etc. I may even interview some people!
How frequently will I be blogging about being black in Vermont?
I will try my best to make one post a week.
Summary of my experience while black in Vermont
I experienced several instances of racism and microagressions while I was in Vermont. All of this was very traumatic for me to process. However, I made lifelong friends, met amazing people, grew closer to God, matured immensely, and graduated on time! To say thanks to God would really be an understatement.
NOT EVERYONE IN VERMONT WAS RACIST!!!! There were many great people in that state and I thank God for giving me the opportunity to experience such a beautiful environment. I am simply using my platform to help people. Feel free to ask me questions, be respectful, enjoy, and educate yourself!
Saturday, August 13, 2016
New York is one of my favorite cities and I have always dreamed of being in New York during New York Fashion Week ("NYFW"). My first experience in The Big Apple was when I was a young child… too young to remember anything about this magical city. I interned in New York City in the summer of 2012 and made a promise to myself that the next time I went back it would be during NYFW. I ended up going back to New York City during September 2015 when NYFW was in session. Even though I attended Zuvaa's pop-up event, my thirst for NYFW was not quenched. My prayers were answered on February 12
th
, 2016. On this day, I was able to attend
Francesca Liberatore's
show (which was located at
the Dock, Skylight at Moynihan Station
). I am so excited to share with all of you my full NYFW experience. Enjoy!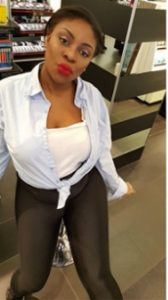 Before the fashion show, I went to
Sephora
get my makeup done. I absolutely LOVE Sephora. I am a VIB Rouge at Sephora which means that I am eligible for unlimited free makeovers and other fun perks. I highly suggest that anyone who needs to get their makeup done go to Sephora. Even if you are not a VIB Rogue member, you can still receive a free makeover with a fifty-dollar purchase.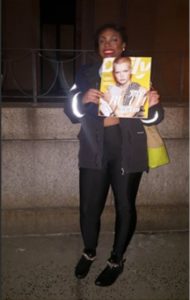 The show started at 7 pm and I knew that the venue would fill up fast. When I arrived, I noticed the volunteers were handing out custom NYFW magazines. While waiting in line I met the owner of
Gold Glamour
,
Elizabeth Dieudonne
. She was so sweet! In addition to being a complete sweetheart, she is the definition of a gorgeous fashionista. Thankfully, we can all recreate her style by shopping at Gold Glamour. I also have a treat for you guys! I created a
Pinterest board dedicated to Gold Glamour
. This board not only features fashion from the boutique, but here, I share how I would wear certain pieces.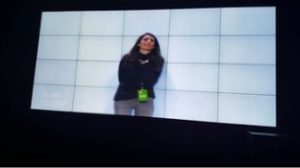 This picture is of Francesca Liberatore. The designers always come out at the very end of the show once the models are done walking the runway. Watching the designers come out is one of my favorite parts of the show. I try to put myself in their shoes. Francesca seemed very humble and down to earth and I most definitely respect her work.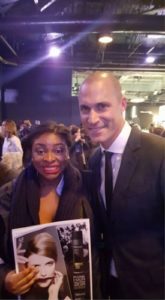 As soon as the show was over security started to direct everyone out of the location. In the midst of the mayhem, I saw a handsome face that I could recognize a mile away, it was…
Nigel Barker
! For those of you who do not know, Nigel Barker is a renowned photographer, but a lot of people (like myself) know him best from the television show,
America's Next Top Model
.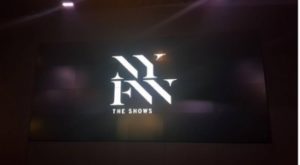 The countdown to this year's NYFW is on! The shows begin September 8
th
and will run through September 15
th.
Please comment below and tell me if you plan to attend NYFW and let me know who your favorite NYFW designers are.
CLICK HERE
to watch a video I took of the show I attended last year.